Health and wellbeing is a topic of huge importance these days. Not just in the home environment but also the workplace.
So how can you better support your employees?
Employees who feel that their needs are not being met by their employer are showing that they are not afraid to look elsewhere for the support they need and in some circumstances, expect from an employer, particularly when it comes to their health and wellbeing and helping them to strike a better work life balance for themselves and their families. As an employer there are various products you can introduce to better support your staff including Group Life Assurance, which is much more than just life cover!
Group Life Assurance
Many group life assurance providers offer far more than just life cover. They will often include an Employee Assistance Programme at no additional cost to help support your employees in various ways.
Cover can include:
Access to virtual GP's 24/7
Employee Assistance Programmes (EAP's) can help people with their mental wellbeing, such as Counselling services for depression and anxiety
Guidance on how to cope with aspects like sleep disturbances and fatigue,
Why should I support my employees? 
Two in five employees say they would stay in their current job if their employer showed greater care towards their mental wellbeing
This is one of the key findings from research, which also shows more than half (59%) of employees admit they will now start looking for a new job if their work values aren't accommodated.
Over half (54%) are considering leaving their current role in the next 18 months.
While pay continues to be ranked most important (65%) factor for employees considering moving on, job security was cited by almost two in three (62%) employees and nearly two in five (39%) employees report they would remain with their current employer if their boss demonstrated more care for their mental wellbeing.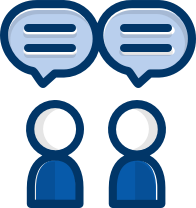 Need advice? Get in touch.
Complete our enquiry form
Get in touch

Accredited
We strive to always meet the highest professional standards laid out by industry standards. Investing in staff translates to a better service.

Established
We're a business with history dating back to 1982 when we set out with the intention of becoming an industry leading financial advisor.

Personable
We pride ourselves on the personable service we deliver to all clients regardless of service. Our clients are our number 1 priority.