It is never too early to start planning for the future and considering your retirement options.
It is important you make the right decision regarding your pension, depending on your personal circumstances, the tax rate you are liable to and your requirements. As we are impartial, Independent Financial Advisers, we can advise on tax-efficient solutions for your needs and answer any questions you may have.
We consider your post-retirement circumstances, looking at whether an annuity provides the best option, or if alternative options, such as phasing your retirement, drawing-down an income or taking the fund in one lump sum is the most suitable for your individual situation. We also advise on ways of passing on your pension to your next of kin after your death.
Whatever your queries may be, whether they are regarding income drawdown, state entitlement, annuity purchase or personal and age allowances, we can explain things clearly and concisely, unravelling any jargon you don't understand with clear, accurate information, as well as assisting with the completion of the many forms you are likely to receive.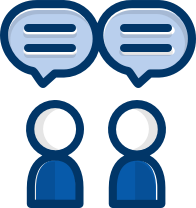 Need advice? Get in touch.
Complete our enquiry form
Get in touch

Accredited
We strive to always meet the highest professional standards laid out by industry standards. Investing in staff translates to a better service.

Established
We're a business with history dating back to 1982 when we set out with the intention of becoming an industry leading financial advisor.

Personable
We pride ourselves on the personable service we deliver to all clients regardless of service. Our clients are our number 1 priority.